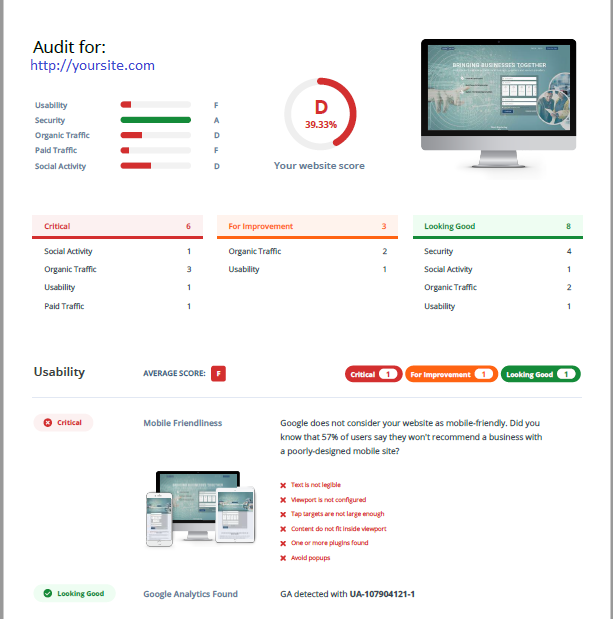 Use this free website audit tool to see just how visible your website is. Digital channel usage has increased drastically. Your competitors are already looking at their digital media strategy. Make sure your customers find your professional services or products on search engines. This SEO site audit will give you immediate information on how visible your website is to potential customers. Boost your Digital Marketing now
If you're looking for greater digital exposure for your professional services or products, get listed on connexion.zone or have a look at our Competitive SEO packages
What does it mean to audit a website?

A Website audit is a full analysis of all the factors that affect website's visibility in search engines. It identifies all the elements that prevent your website from ranking higher in search engines.
Why is website auditing important?

Website audits are an essential measure to improve the efficiency and visibility of a website. Audits improve Google search ranking while increasing site traffic and performance. A website audit presents a business with an exceptional opportunity for growth online.
What do I need to run a SEO site audit?

Just enter your domain and email address and we will generate the free SEO site audit and email it you.
What information will I find in the audit?

Our Audit report is designed to make it simple and easy to understand for anyone. You'll find five sections that cover relevant areas for the improvement of the website's performance: Usability, Security, SEO, SEM, and Social Media

What does the "Website Score" mean?

This is the overall health score awarded to your site following the auditing process. The health score is a product of different Search Engine Optimisation metrics combined based on how well optimised the website is.
Where do you get the data for the SEO audit?

We've integrated multiple SEO tools to collect website performance, such as Google Search Console, Google Analytics, Screaming Frog, and Ahrefs. The SEO audit price is zero (Free).
Do I need an SEO Expert?

If you are not prepared to spend a lot of time on your search engine optimisation, then it is best to hire an SEO expert. If you cannot prepare enough time time from your day to day operations, then you need find a SEO expert.